---
White Plains Times
Reproduced with Permission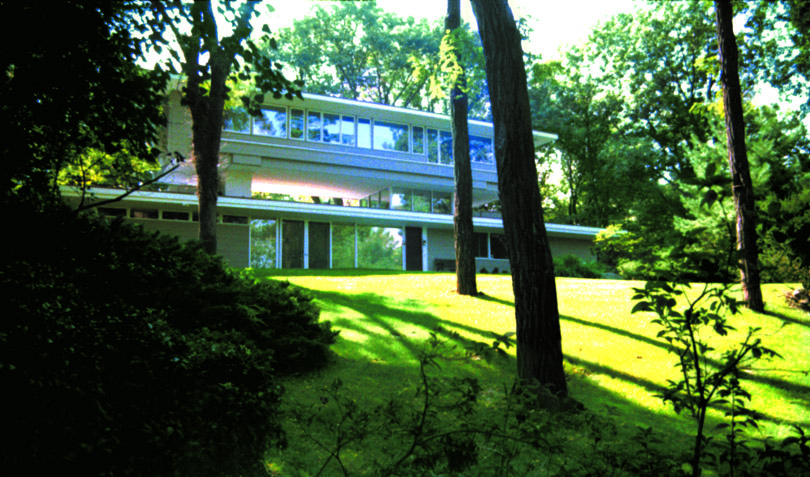 Architect Fights to Protect Historic House
Neighborhood-Altering Plan Goes Before Board

By Sharon Kennedy
Published: September 13, 2006

Architect John Mclean first read about an application for a five-lot subdivision at 240 Rosedale Ave. in the White Plains Times ["Planning Board Considers Applications," by Joshua Friesen, July 28]. Dismayed, Mclean knew that the subdivision would entail the leveling of the house currently built on the property.

Mclean's concern stemmed in part from his own work on the house, when in 1998, he was approached by a semi-retired couple to design a second-floor addition. "I was quite honored," he said. As most architects would be, considering that the original house was built in 1949 by renowned architect Edward Durell Stone, whose list of work includes designing the original Museum of Modern Art in New York and the Kennedy Center for Performing Arts in Washington, D.C. In addition, the Rosedale house has been featured in publications such as the New York Times and Progressive Architecture.

In learning of the subdivision, Mclean contacted the Planning Department, only to have it confirm his anticipations: the Rosedale House was to be demolished.

Although Mclean was praised for keeping with the original architectural design of the Rosedale House, Planning Board member John Garment brought up the renovations and addition that was put on (the second floor). "It's no longer an Edward Durell Stone house due to that addition," Garment said.
Mclean, however, speaking later with the White Plains Times, described his addition as "a deliberate act of preservation of the original house. It became my architectural conversation with Edward Durell Stone, although 50 years later," he said. In his written report to the Planning Board, he further described the second story: "Compositionally, one structure hovers over the other mediated by an open deck, like a rest stop in a musical composition, or the negative space in a painting; it is at once a pause and a uniting feature."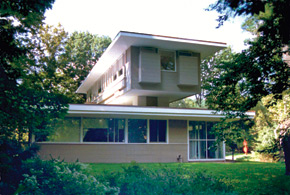 Mclean says of the addition, "One structure hovers over the other mediated by an open deck, like a rest stop in a musical composition."

Photo credit: John Mclean
Mclean also maintains that present historic preservation laws (on the New York State and Federal level) are still in a state of infancy, thus making it difficult for any historic building that has been added to or changed be recognized. Interestingly, even the Guggenheim Museum cannot be officially designated as a historic building due to an addition about 15 years ago and modifications and renovations over the years. However, "The building is still recognized as a Frank Lloyd Wright design and building," Mclean stresses.

The City of New York is currently looking to revise its rules. Mclean points to The Morse Building, once the tallest building in the world "now modified with added floors", which is being reconsidered for historic designation.

"This is the reason why a new policy regarding preservation of modern buildings is needed," says Mclean. "Namely, in order that the significance of the original work is not lost or destroyed. With this logic in mind, the same observation should apply to the Rosedale House."
Speaking of Significance?
240 Rosedale Ave. isn't the only property that stands to lose its sense of significance. Over at neighboring lot 250 Rosedale Ave., owned by Dr. Steven Horowitz, the house and acre pond were used in the film Unfaithful starring Richard Gere and Diane Lane.

Dr. Horowitz has expressed serious concerns over how the pond on his property would be affected by drainage from the 240 lot. "They [Rosedales Properties, LLC] are building this little holding area that's supposed to handle run-off and protect my pond by changing the flow pattern," said Horowitz. "Everything is conjectural about what it'll do." Horowitz was also displeased to learn that the holding area was originally to have been owned by whoever happened to buy that particular lot. "If a painter decided to dump turpentine into that holding area, I would know about it two months later when I saw everything dead in my pond," Horowitz said. Fortunately, many Planning Board members also had issue with a private homeowner monitoring storm run-off at the Aug. 15 meeting, and the issue was adjourned until the Sept. 19 meeting.

As for The Rosedale House's architectural significance, Horowitz was quick to identify Edward Durell Stone as a "major figure in architecture," but added, "It's not just the house. It's symbolic of what the house stands for on the block. Most of the houses are large and have unusual buildings on them, as does mine. There is now an intent to take my next door lot and put a whole road in with a cul-de-sac and five houses. When I talked to a friend, he used the expression "McMansions" taking small lots and putting huge houses on them. I'm going to go from coming out of my front door looking at this beautiful landscape with a house up in the distance, to three houses right along my property line."

The Last to Know
Finally, Horowitz, like Mclean, was unhappy about how he first heard about the subdivision, Horowitz receiving his notice in the mail. "I was coming back from my honeymoon, so I got it a week after it arrived. If I had taken a two-week honeymoon, I would've missed the hearing. I learned this thing has been cooking for a year [when the property was first purchased] and now it's being plopped on all the residents' tables at the 11th hour to sort out." When Horowitz spoke to his engineer, he was told that White Plains was the only town he knew of that didn't notify homeowners adjacent to the property immediately, but instead, only required the builder to let people know at the time of the public hearing. "They [the developers] are under no obligation to do so beforehand," says Horowitz.

"It's unpleasant," concludes Horowitz of the subdivision. "It will create permanent destruction of the neighborhood without question."

The developers of Rosedale Properties, LLC, did not wish to comment for this story, and wished to remain unidentified.

The public hearing for 240 Rosedale is scheduled for Sept. 19 at the Planning Board meeting inside City Hall.
---
The following is excerpted from an article published: September 21, 2006
By: Rock Stamberg and Sharon Kennedy

240 Rosedale Avenue
Tuesday night's Planning Board meeting originally had nine proposed items on the docket, but only two were addressed before the event was temporarily adjourned at 10:15 p.m. (Many in the audience erroneously thought the event had ended for the night and departed.) The meeting started 45 minutes late due to an unscheduled private meeting outside Common Council Chambers in which the entire board stepped out with legal counsel to discuss the environmentally sensitive nature of the proposed site plan application for 40 Reynal Road, specifically as it pertained to preserving the wetlands on the property. Many residents were perturbed that when the meeting started, voices were barely audible.

When the proposed five-lot subdivision scheduled for 240 Rosedale Ave. (White Plains Times, Sept. 15, 2006 "Architect Fights to Protect Historic House" by Sharon Kennedy) was brought up, Dr. Steven Horowitz of 250 Rosedale Ave. along with his engineer and attorney and other neighbors, voiced concerns over the loss and replacement of surrounding trees, drainage issues, and the possibility of blasting.

When Horowitz's engineer, Leonard Jackson, asked that the applicant make a screening plan available in order to accurately determine the proposed development's visual impact to Horowitz's property, Habel was surprised to hear that the developer had not yet staked out the property or the proposed dwellings to be built there. "Limited Disturbance needs to be done right away," she said. "I thought this had been done already."

Finally, local architect John Mclean, who designed an addition to the house that currently sits on 240 Rosedale (originally designed by Edward Durell Stone), made an impassioned plea to the Planning Board to save the Rosedale House. He pointed out that "nobody is saying, no," but there has to be a way to preserve the house. We can't re-capture it later." He maintained five lots was "too much" for the site and asked, "Where do we want our city to go, and how fast do we want it to go?"

Gina Martini D'Onofrio of Saccardi and Schiff, a planning and development consulting firm representing the applicant, responded, "I think more lots could have been proposed [to the site]. That's not what we're doing."

Acting chairman of the board John Garment adjourned the meeting until October 10 (a rescheduling from October 17).
---